Courses Taught: 1st Grade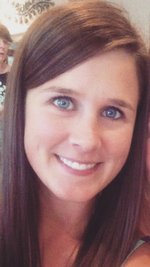 My name is Megan Henderson. I have lived in Pike County my whole life. I am married to Tyler Henderson. Tyler and I have one daughter, Avery.
I attended Troy University and received a Bachelor's Degree in K-6 Elementary Education. (Spring 2012)
I started my teaching career at Banks Primary School as a third grade teacher. I taught there for one year before moving to Pike County Elementary School. I am currently teaching Kindergarten and LOVE it!
7:30 - 7:40 -- Character Education & Health
7:40-8:40 -- Math -- Whole group
8:40-9:10 -- Math -- Centers
9:10-10:10 -- Reading -- Whole group
10:10-10:40-- Reading -- Centers
10:45-11:00 -- Lunch
11:00 - 11:30 -- Recess
11:30-12:15 -- Reading Centers
12:15-1:10 -- P.E. and Special Area
1:10 - 1:50 -- Writing
1:50-2:20 -- Science / Social Studies
2:20-3:08 -- Snack
3:10 -- Car Riders Dismiss
3:15 -- Bus Riders Dismiss
2 rolls of paper towels
2 boxes of Kleenex
2 -- 2 plastic pocket folders
1 box of classic large crayons
1 box of classic small crayons
2 boxes of Ziploc bags -- 1 quart and 1 gallon size
1 box classic washable markers
4 -- #2 regular size pencils
1 pair safety scissors -- child size
3 glue sticks
1 plastic school supply box (9inches)
1 book bag
**As students use supplies during the year, it may become necessary to purchase additional quantities of items from the list.
Classroom Rules
1. Raise your hand to talk.
2. Keep your hands, feet, and other objects to yourself.
3. Follow directions.
4. Listen when your teacher is talking.
5. ALWAYS show respect!
Educational Websites:
www.abcmouse.com/redeem school code: school1208
This is the link to Stride Academy. A program that we use at school.

www.storyonline.net Great website for online story telling
Nonsense Word Practice
Nonsense words are parts of big words. Reading nonsense words will help students read big words later. For example: Nonsense words: fan tas tic
Put the 3 nonsense words together to get fantastic! Nonsense words are very important. Students are to say the sounds first, then blend the sounds together to make a nonsense word.