Pre-K PRE-REGISTRATION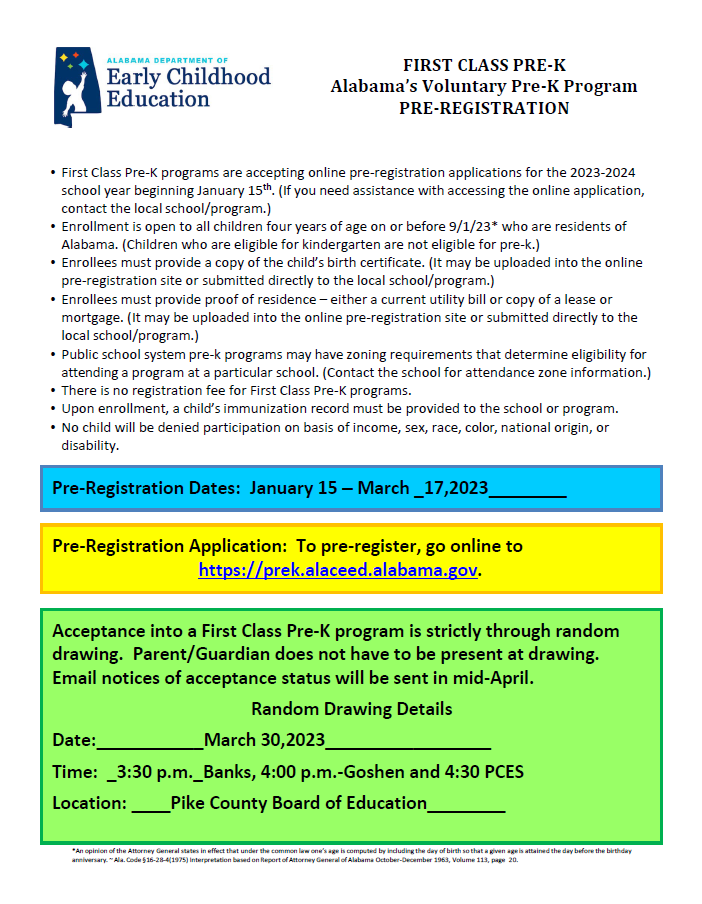 ---
Pre-K registration is now open until March 17th. Enrollment is open to all children four years of age on or before 9/1/2023 who are residents of the state of Alabama.
Go online to https://prek.alaceed.alabama.gov/. You will need to complete the Pre-Registration Form and submit your child's birth certificate and proof of residence.
Upon enrollment, your child's immunization record (blue card) must be provided.
Acceptance is strictly through a random drawing to be held on March 30, 2023, at 3:30 pm (Banks), 4:00 pm (GES), and 4:30 pm (PCES) at Pike County Board of Education 101 W Love Street, Troy, AL. Because of COVID, no one will be allowed to enter to watch the drawing.
A LIVESTREAM of the drawing can be viewed on the Pike County School District Facebook page. https://www.facebook.com/ALPikeCoSchools/
Notices will be emailed beginning mid-April.