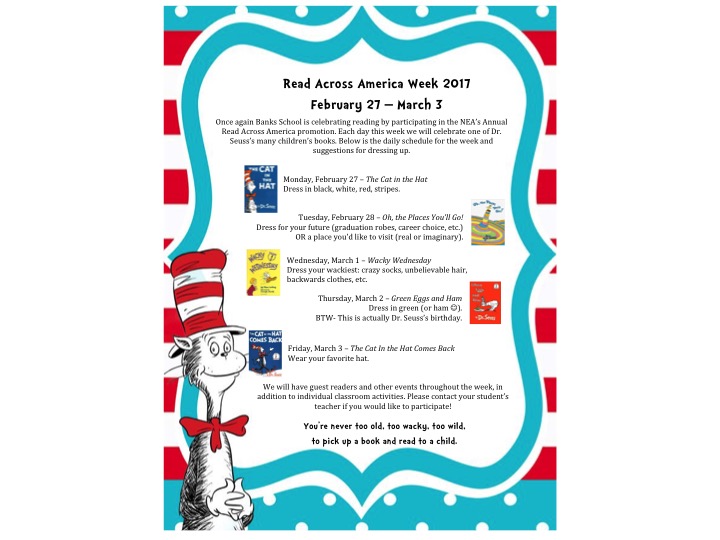 Read Across America Week 2017
February 27 – March 3
Once again Banks School is celebrating reading by participating in the NEA's Annual Read Across America promotion. Each day this week we will celebrate one of Dr. Seuss's many children's books. Below is the daily schedule for the week and suggestions for dressing up.
Monday, February 27 – The Cat in the Hat Dress in black, white, red, stripes.
Tuesday, February 28 – Oh, the Places You'll Go! Dress for your future (graduation robes, career choice, etc.) OR a place you'd like to visit (real or imaginary).
Wednesday, March 1 – Wacky Wednesday Dress your wackiest: crazy socks, unbelievable hair, backwards clothes, etc.
Thursday, March 2 – Green Eggs and Ham Dress in green (or ham). BTW- This is actually Dr. Seuss's birthday.
Friday, March 3 – The Cat In the Hat Comes Back Wear your favorite hat.
We will have guest readers and other events throughout the week, in addition to individual classroom activities. Please contact your student's teacher if you would like to participate!
You're never too old, too wacky, too wild, to pick up a book and read to a child.